In 2006, Russell and Beckie purchased a small mountain cabin that borders the Lincoln National Forest just outside of Ruidoso, New Mexico. The intent was to provide a relaxing mountain retreat from the fast-paced city life. Casa Angeles was the name given to the cabin out of gratitude for the role the angels play in our lives and for their support in the purchase of the cabin.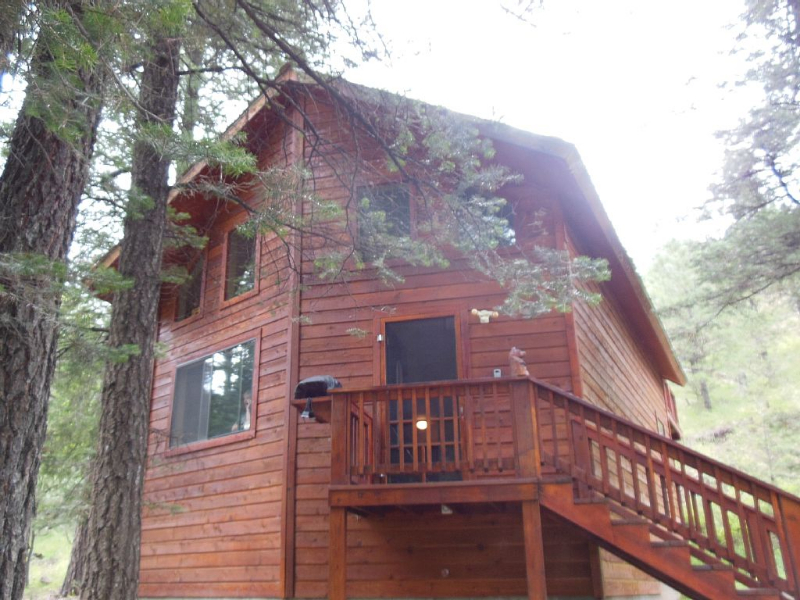 The two bedroom mountain cabin is on an acre and a half, has a creek that flows through the front of the property, and an upper deck out the back door of the upstairs loft bedroom. The rear deck enjoys the private North face of the mountain slope toward the rear of the property. The cabin faces the canyon floor, the creek, and rugged steep forest slope across the road.
Empty lots on all sides help ensure a private relaxed stay in the forest that has easy access to nature activities, fine dining, skiing, galleries, theater, entertainment, old western towns, and the diverse landscape of central New Mexico. In order to maintain the mountain cabin retreat aspects, the Casa has no internet or cable access. There is a nice flat screen TV, DVD player, a stereo, and a large selection CDs and DVDs for your mountain escape entertainment. Go to the mountains prepared for the only thing that will greet you, which are the deer, sounds of the creek meandering through the silence, and the fresh pine-scented forest air.
For more information on the use of this natural wonderland at the base of the Rockies and the Sierra Blanca mountains, visit our Ruidoso Mountain Cabin page on VRBO or the Casa De Angeles Web pagge for more information.