Hello, and welcome! We're happy you're connecting with Russell and Beckie Forsyth, two beautiful souls who share this life mission:
Bring joy, ease suffering, and create beauty.
Russell and Beckie are dedicated to the healing arts. And over the years, their gifts and offerings have helped many people in countless ways.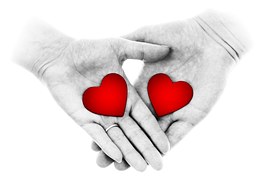 As a certified Angel Therapist, Russell's primary training and special gift is in working with angelic beings to help clients attain their highest good and greatest happiness. In thousands of sessions, Russell has found that working in partnership with the angels attunes us to the energy of Divine Love and brings profound transformation.
Russell is the founder of the IEL Institute for the Spiritual Arts and the IEL (Intuit the Energy of Love) Program, which provides seven levels of advanced training for energy healing practitioners. He is also the inventor of the Forsyth Crystal Light Table, which creates dramatic results through the synergistic combining of crystal therapy, chromotherapy, sound vibration therapy, and magnetic therapy.
Beckie's calling is facilitating gentle yet powerful healing through music and sound. When she plays her twelve Alchemy Crystal Singing Bowls for clients, an experience of pure transcendence is created.
We invite you to allow your divinely inspired curiosity to guide you, and discover how working with Russell or Beckie can help reconnect you to the infinite power of Love within us all.
Please explore the website to learn more about Russell Forsyth and Beckie Forsyth.
Angel Readings are for all ages and walks of life. Angels transcend all barriers of religion and spirituality to reach out to you in your hour of need. Whether it's affirmations of what you already know to be true, or revelations of things you need to be aware of, the angels always deliver.
An Angel Reading with Russell Forsyth will use methods designed to help connect with your angels for loving messages about your life. These sessions will leave you with a renewed sense of 'you're not alone' when it comes to dealing with the challenges that life offers.
Energy testing is part of every session, which can lead to insights and focused intentions. The Forsyth Crystal Light Table can be used in sessions such as, Soul Retrieval, Angel Readings, Crystal Therapy, Spirit Release, manifestations, resolving health issue or anything that addresses your intentions. The use of crystal singing bowls helps align energies while providing a relaxing and meditative environment.
Under the IEL Institute for the Spiritual Arts program, Russell conducts in person workshops and offers home study classes with mentoring on how to connect with your angels, use crystals for healing, understanding the healing effects of sound vibrations, spirit release therapy, past life therapy, polarity therapy, and more.
Purchase your own true Vogel Crystal wands and crystal jewelry along with amazing crystal wands and sculptures by Lawrence Stoller from our Crystal Shop. Pendulums, crystal bowls and custom strikers, angel cards, Russell's meditations, books and CD's are also available from the Crystal Shop!
Home | Angel Readings | Crystal Therapy | Spirit Release | Forsyth Crystal Light Table | Donate
Soul Retrieval | Angel Whispers | Spiritual Counseling | Mentorship | Workshops
Radio/TV | Russell's Journey | Casa Angeles Mountain Retreat | Payment
Shop the Crystal Shop | Russell's Blog | Testimonials | Pricing | Contact Me