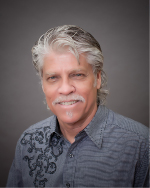 Russell Forsyth is a certified Angel Therapist ® who trained under Dr. Doreen Virtue and been in service as an energy healing practitioner since 2006. Russell also teaches classes and workshops, and has developed a comprehensive training program for energy healers. Following angelic guidance, he invented a unique crystal light table for use in energy healing sessions. Over the years, Russell has written a number of books, has appeared on many radio shows, and was selected to film a pilot TV show on angel readers. Russell currently writes a weekly newsletter called "Angel Whispers," which features a word study and channeled messages from the angels.
Contact Russell by phone at 512.999.8478 or send an email
Russell's blog: http://russellforsyth.wordpress.com

About Russell

Russell and Beckie Forsyth have been married 35 years, have two sons, and share five grandchildren with extended family members all over the United States. A big part of their lives has been working in order to raise a family in Austin, Texas. Therefore Russell believes in a purpose-filled and grounded existence that supports living successfully in the world.
Russell, who became an entrepreneur and business owner at the young age of 17, has always followed his heart in both his business and personal life. Owning his own business at such an early age honed Russell's gifts of self-reliance, business intuition, and working well with people. Russell began remodeling houses in his mid-twenties, applying his creative spirit to helping people create beautiful living spaces for themselves and their families. Just prior to the shift into their current work, Russell and his wife Beckie completed a four-year job as general contractor for an $2 million historical restoration of 2 homes in central Austin, Texas. Russell's superb attention to detail and gift for sourcing great talent produced a wonderful restoration that earned awards for excellence. This was a crowning achievement for his life-long love of old houses and the rich history of Austin.
Answering the call of the angels

In April 2006, Russell attended a certification program for the purpose of self-healing. It was then that Russell decided to move from being an award winning contractor to becoming a certified Angel Therapist®. In 2007, Russell received his certification in the area of Mediumship, and in 2008, he completed his certification in the Advanced Angel Therapy program with Dr. Doreen Virtue.
Since then, Russell has invented a crystal light table for energy healing, written six books, created the IEL (Intuit the Energy of Love) Program with 7 levels of teachings, holds workshop events, and writes a weekly column called "Angel Whispers," which has come out every Sunday for almost 8 years.
Inspired writings and music

Russell's first short story submission was published in the book Angel Love by Dr. Carolyn Porter. Russell published his first writing titled "Mariposa," along with the books Solar Cross, Elle – When History Travels on a Whisper, and Angel Whispers, A Collection of Channeled Messages.
Russell has always been interested in music and is an accomplished singer/songwriter playing in a band called Thundering Grace, which released an album in 2012 called Fireside. His main instrument was the guitar until the late eighties when Beckie conspired with a friend to borrow Russell's twelve-string guitar, only to return it on his birthday as a mandocello. The mandocello is the original bass sound instrument that is similar to the mandolin. It has been referred to as the "instrument of the angels," much like the harp. This beautiful instrument provides a unique sound that Russell uses to present his music. His first CD, A Prayer for You, was released in 2005. His second CD, One Thing, focuses on the one driving force in the Universe, known as Love.
A cherished practice

Russell cherishes his work with human energy, and has built a practice that serves people of all ages and from all walks of life. Russell has enjoyed success in many areas of intuitive energy practices, working with people who suffer from severe illness, trauma, and varying emotional conditions. This is due, in part, to his study of Dr. Marcel Vogel, Dr. Alberto Garcia, and Dr. William Baldwin, whom Russell values as his primary teachers. His work in the area of divine service operates from the intentions of his clients, which enables him to help others in a number of ways, from manifestation to ascension, removal of blocks and foreign energies, personal growth and business recommendations, personal investments, medical intuitive needs, and any area that offers an opportunity to partner with the growth process of another human being.
Russell and Beckie have summed up their intentions in doing their healing work, and offer this as their sacred mission statement:
Bring joy, ease suffering, and create beauty.